The Painted Bach

Using three rows of stretchers each 2.3 x 2.7metres, Judith painted her visual response to J.S.Bach's Cello Suite No.5 in Cm played by cellist Rachel Scott. The performance of 6 movements, at The Italian Forum Cultural Centre in Leichhardt on 15th November 2013, took 45 minutes. In this video Susan Butler chats to Judith and Rachel about the performance.

Click here for a transcript of the interview with Judith and Rachel. Click here to view the performance.
Painted Bach Preludes

As an extension to the public performance of painting to Bach I had the privilege of being able to paint in the privacy of my studio, with a personal performance by Rachel of the Prelude to Suite No1 in G major, and the Prelude to Suite No2 in D minor.

Working with, and to music is often a great influence for most artists. Music making and painting require the artist and musician to inhabit a zone that goes way beyond mere concentration.

To be able to paint to a live performance by a musician of Rachel's calibre has been a fantastic experience. As friends, the connection and comradeship was extra special. Each of us had an obligation to our own practice, but at the same time there needed to be a telepathic connection of sound and mark making. The musical vehicle for all this is of course the genius of Bach, whose music for me is very expressive, but at the same time cerebral and disciplined.

Rachel came to my studio on 2 separate occasions and played with many repeats (and tea breaks); her patience and consistency astounded me. After each session, I worked for many days with the impetus of the live sound developing the initial colour and energy of each prelude into a finished painting.

The 2 resulting works are truly unique, unable to be reproduced in any way even if we repeated the sessions in my studio.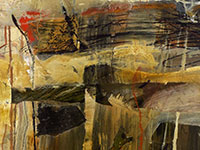 Prelude No.1

2016 acrylic & collage on canvas 130 x 110cm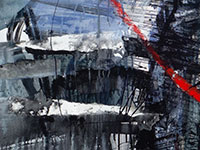 Prelude No.2

2016 acrylic & collage on canvas 112 x 183cm